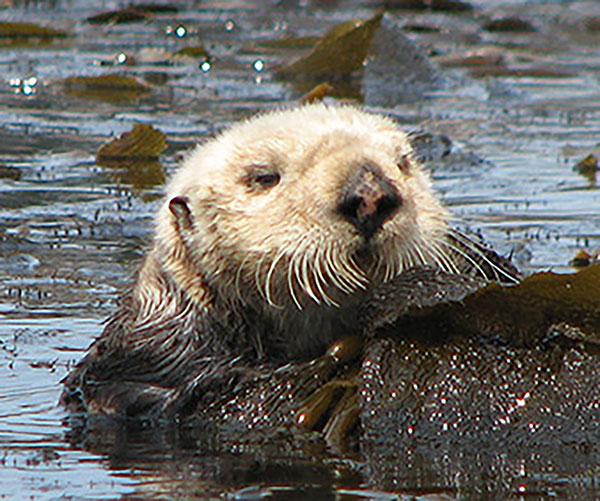 Wharf Nature Tour- SC Paddling Experience
Kayak Nature Tour
Approximately Two Hours of Paddling
Kelp forest creatures; sea otters, seals and sea lions.
Join Venture Quest for a relaxing morning or evening paddle on the bay. As you leave the land, you will leave all the worries and stress of the city behind and enter the wilderness of Monterey Bay . It's easy, safe, and fun. We will begin near the wharf and pass by seals and otters as we glide through the waters near Lighthouse Point. Single and double kayaks are available. We will meet at the Kayak Rental Office, #2 Santa Cruz Municipal Wharf . We provide all the equipment, instruction, and guides. Beginners welcome. An easy intro to kayaking and the creatures of Monterey Bay!
DATE
Year Round. Choose any date, and call for available times. Mornings are recommended
COST
$60
Kayak Tour of Elkhorn Slough
National Estuarine Reserve
Bird watching with sea otters and seals in a calm estuary.
We meet in the North Hrbor of Moss Landing at 9 am, and finish by 1pm.  If conditions permit, we will first take a cruise outside of the harbor on the Monterey bay to look for dolphins or whales. Then, as the sea breeze picks up, we will put up our kayak sails and glide into the marsh, watching for seals, otters and interesting birds such as the Long-Billed Curlew and White Pelicans. This fun day tour includes all kayaking equipment, single or double kayak, guides, an introductory lesson and natural interpretation. For calm water paddling, seal, otter, and bird watching this is the place to go.
DATE
Year round! We have most dates available. Choose your own date for a private tour.
COST
$70, $35 for kids under 16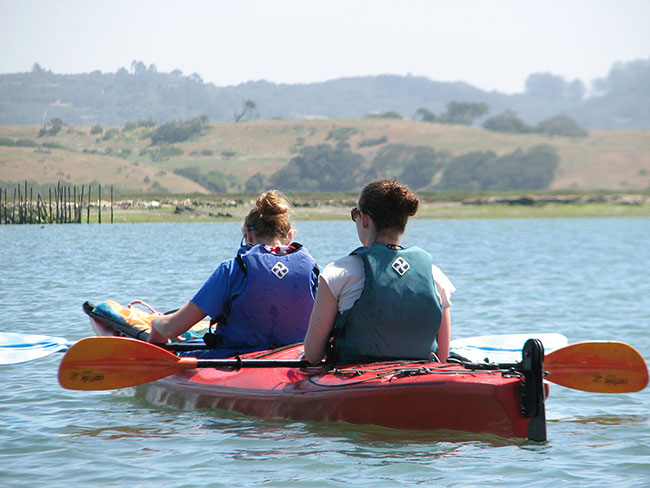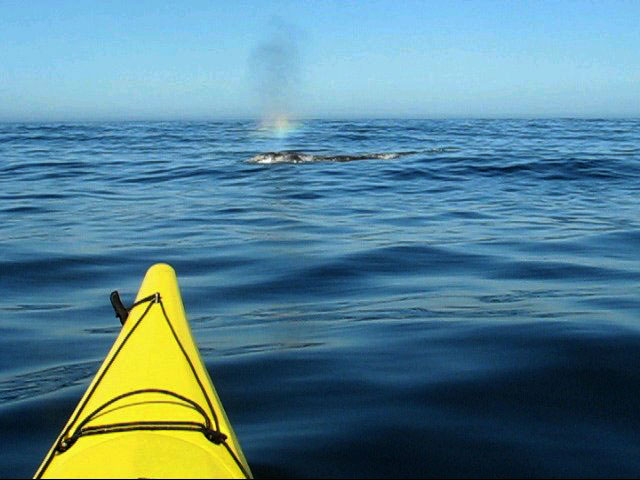 Gray Whale Kayak Tour- in Davenport
California Grey Whales
Open Water
Join us for a real adventure; kayaking with Grey Whales. In the Spring, the Grey Whales' migration brings them close to our coastline. At Davenport Landing, 10 miles north of Santa Cruz, kayaks can easily access the open ocean and encounter whales very close to shore. Our tour begins and ends early in the morning at Davenport Landing. We can generally see whales without paddling more than a few hundred yards offshore. During our Whale-Watch trips, we are in radio contact with a spotter on the cliffs to maximize whale encounters and increase communication and safety. This tour is available when the ocean is calm. The best time of the year is April and May. This tour was featured on a TV travel show called Bay Area Backroads. Truly a peak experience!
DATE
Springtime only! March, April and May.
COST
$75
Gray Whale Kayak Tour - Lite (in Santa Cruz)
California Grey Whales
Inside the Bay
Not as many whales as the open water tour, but this tour features the calmer waters of the Monterey Bay off Santa Cruz Cove. The Grey Whales in the bay here are often younger whales that have stopped to rest or feed during their 6000 mile migration from Mexico to Alaska. Morning and evening tours are available, private tours too. This tour is great for beginners!
DATE
Most days available in March and April.
COST
$70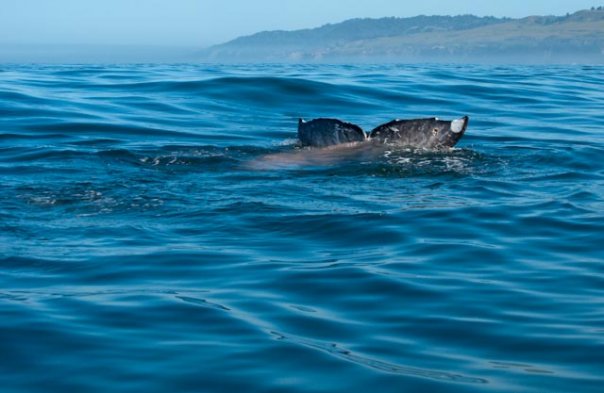 Humpback Whales at Moss Landing and Sea Otters of Elkhorn Slough
Whale watching outside of the Harbor
Plus bird watching with sea otters and seals in a calm estuary
Just off the coast of Moss Landing in lies the Monterey Bay Submarine Canyon, over a mile deep. The nutrient rich waters support a huge variety of fish, birds and marine mammals. On calm mornings we paddle out of Moss Landing Harbor in search of Bottle Nosed Dolphins and Humpback Whales. Typically, we see whales within a mile or two of shore.  This adventure tour includes all kayaking equipment, single or double kayak, guides, an introductory lesson and natural interpretation. For its variety of wildlife, this trip cannot be beat.
DATE
April, May, June, July, Aug, September, October. We have most dates available. Choose your own date for a private tour.
COST
$75
Moonlight Paddles
What could be more romantic than to paddle off into the sunset then watch the moon rise as you glide through its sparkling reflection?  Meet one hour before sunset at the Santa Cruz Wharf in the Summer and the SC Yacht Harbor in the Fall and Spring.  Hang out with the sea otters while the sun sets and wait for the moon to rise. Bring food, warm clothes and a flashlight. Beginners welcome.
DATE
Best nights are within one week before the fullmoon. Times; Meets one hour before sunset. April 12, May 10, June 11, July 11, 12, Aug 9th, Sept 6th, 2014
COST
$60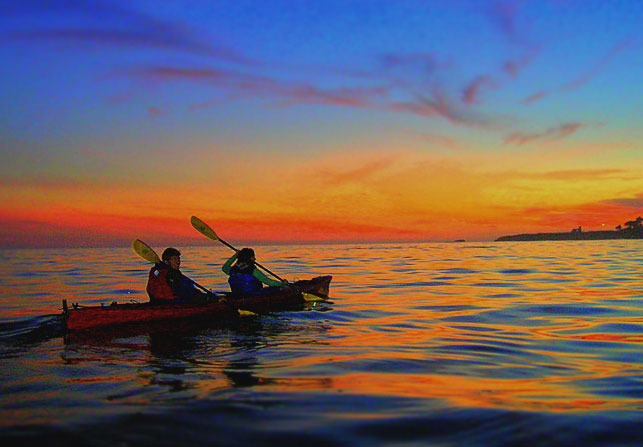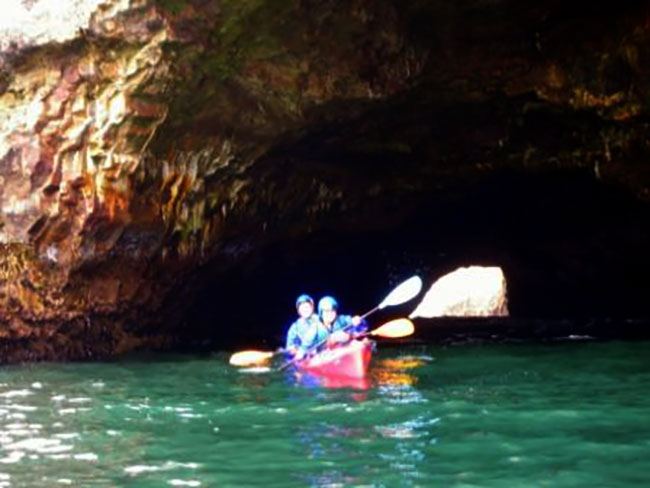 Santa Cruz Sea Caves and Kayak Sailing
The Sea Caves of Wilder Ranch
Four miles of downwind Kayak Sailing
Our journey starts at Natural Bridges State Park where we will launch our kayaks from the beach and paddle up the coast to the sea caves and pocket coves of Wilder Ranch. After paddling through 'Hole in the wall' cave we will enjoy a nice lunch on a secluded beach. Then we will hoist the kayak sails for an exhilarating ride downwind, past Natural Bridges and Seal Rock to the Santa Cruz Wharf. We will take a shuttle back to the cars at the end of this adventurous day.
DATE
Summertime. Call for available dates
COST
$75
Sea Kayaking Wharf to Wharf
Monterey Bay Kayaking Tour
Join us for a fun day on the Monterey Bay . We commonly see dolphins, sea lions, seals, and sea otters as we make the usually downwind journey from Santa Cruz to Capitola. There will be a stop for lunch along the way and a car pool back in the afternoon. All equipment and lunch are provided. We'll meet at the Venture Quest kayak rental office on the Santa Cruz Wharf at 9:00 a.m. and finish up around 3:00.
DATE
Summertime. August 29th, 2010
COST
$75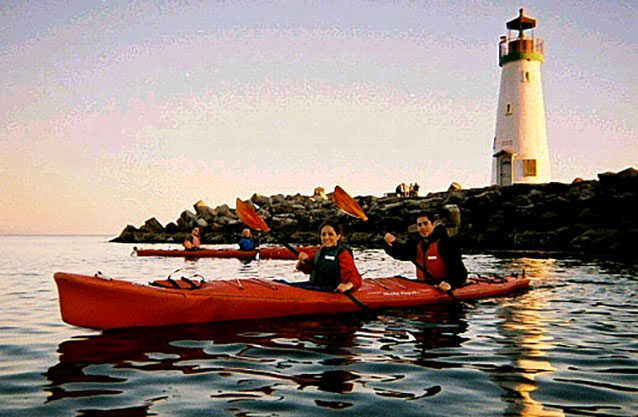 Call Today to Book Your Tour!